BlackOps, the best-selling dark style for Burning Board is now available for the next software generation, WoltLab Suite 3.0. BlackOps was totally rebuilt, modernized and technically constructed to be up to date. Thus functions were implemented, which became the standard in the last years, at least for cls-design. Naturally, all functions can be optionally deactivated.
Among other things, the following ones can be found in the latest version of BlackOps:
1. A fixed main menu and user menu on the screen throughout scrolling
2. There is a large guest header
3. The user header is now also available in BlackOps
4. A large, high-resolution logo is displayed in the mobile view
5. Moreover, there are of course also different predefined colors
6. Customizable color variations
It was never that easy to adjust the contrast colors to your own needs.
BlackOps for WoltLab Suite 3.0 is now available in the shop: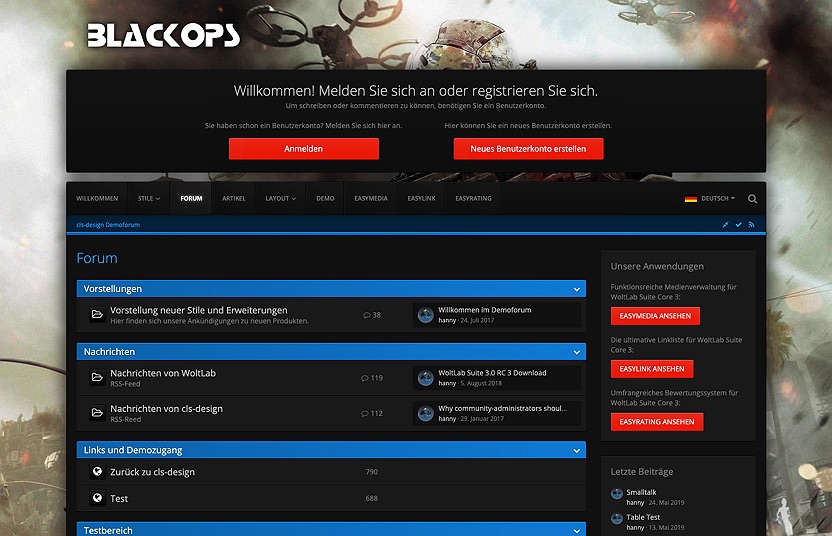 Buy (starting at

EUR 17.90

)
BlackOps
WBB 4 + WoltLab Suite
BlackOps, the expressive community design for your Burning Board 4, which produces harmony via dramatic contrasts and bestows depth to your forum.
A preview is available in the demo forum: BlackOps for WoltLab Suite 3
Existing licenses can be extended in the customer's account by means of acquiring an update access for a special price: https://www.cls-design.com/shop/index.php/LicenseList/